A Young Boy's Dream…

It actually starts back in the 70s during my childhood where I spent a lot of time watching Japanese anime which often featured robot themes. I remember saying to myself as a child, "I will build one of those when I grow up." Throughout my life, I have built many prototypes and smaller robots. However, the greatest motivation came after watching "Chobits." That was when I decided I had to build a life size gynoid. And I knew that all I needed to build it was a little inspiration and passion. I started to build Aiko on August 15, 2007. About a month and a half later, Aiko version1 was completed. Aiko made her first public appearance at the Hobby Show on November 2007 at the Toronto International Center and then at the Ontario Science Center a week later. Aiko is currently bilingual and can speak English and Japanese. Additional languages are a future possibility.


The origin of Aiko's name...

To personify an object and make it feel real, the first thing it requires is a name. To make my robot human, she needed a name that would make people believe she exists. It took me nearly two weeks to finally decide on just the right name – Aiko. Aiko (愛子) means "beloved one" in Japanese. I wanted the world to be able to connect with her human-likeness and at the same time not feel threatened by her technology.


NO perfection...

The Japanese are obsessed with perfection. Living in Japan when I was young, I always admired this quality and tried to be perfect in everything I did. However, as I grew older, I realized that nothing in the world we live in is perfect. If something is perfect, then there is nothing left for us to do. There is no room for imagination, no way to gain additional knowledge or grow. For inventors such as myself, if we make something perfect, then we have failed because it will not have created inspiration in others. It is my goal to create a humanoid that is more wonderful than anything before, but there will always be space for improvement. Aiko and the BRAINS software will never be perfect, but I assure you, it will always continue to develop, progress and mature. Aiko and her software have almost limitless possibilities. But the one thing that I will never be able to give her is true emotion or a soul.

Height 152cm Bust: 82cm Waist: 57cm Hip: 84cm
Height 5 ft Bust: 32" Waist: 23" Hip: 33"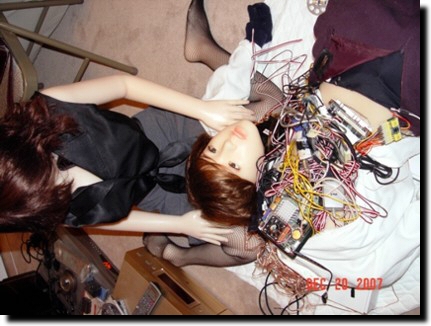 What's next?

For the foreseeable near future, I will complete Aiko version 2 on my own. I know there are many who doubt my work, but it is not about money or pride. It is about a young boy who is determined to see his dream come true.

To all those who believe in me, thank you for your support! Your donations will help to complete Aiko's leg systems and help Aiko walk.
Your donations help Aiko become a reality. With even as little as $ 1, you will be a part of history in the making
Donation click here!
Regards,
Dr. Le, T
If you any questions about Project Aiko, please do not hesitate to email to us.